#BigDog2015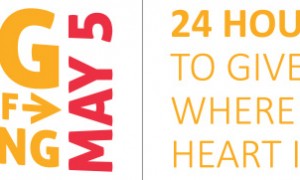 The Big Day of Giving is just around the corner!
Thank you so much to all of you who are planning to give to Wellness Within on May 5th. Click here to donate now!
From midnight to midnight, we are joining with 500 other nonprofits to raise funds for our organizations and support the community. Our goal today is to engage 500 donors and raise $25,000. We need you to get there!
We are counting on you, our supporters and friends of the organization, to help us reach these goals.
With your support, these funds will provide nutrition and cooking education, yoga, tai chi, mindfulness, meditation, iRest, and expressive arts classes to those afflicted by cancer. All of these services help clients to process, cope, manage stress, improve quality of life, and thrive amidst a cancer diagnosis.
Here are all the ways you can help on May 5th:
Make a donation (starting as small as $25) to Wellness Within.
If possible, make this donation between 10am-10:59am, and be entered to win Rebecca Katz's newest cookbook "Healthy Minds." We are aiming to raise the most money during that hour to win a $1,000 prize. Donations outside of this hour are of course wonderful as well.
If you haven't already, visit our Giving Edge profile to check out the organization.More unique visits to the page will help us win a $1,500 prize!
Spread the word. Tell your friends, post on Facebook about your donation or other social media platforms.
Your giving of any amount will be a tremendous contribution to Wellness Within and sustain us in serving those dealing with the stress of cancer. Help us improve our community by joining with others to donate on May 5th, the BIG Day of Giving!