Tempeh Bourguignon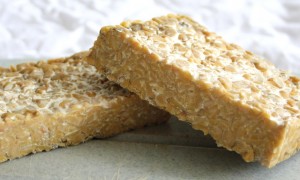 Serves 4 8 oz. package of tempeh, cut into ½ inch cubes 2 cups dry red wine 1 onion chopped 2 carrots cut into ½ inch dice 3 garlic cloves, pressed 1 TBS tamari or soy 3 TBS olive oil, divided ½ tsp. herbes de Provence 1 bay leaf 3 TBS tomato paste 8 oz. sliced fresh mushrooms Salt and pepper to taste 1 TBS arrowroot or cornstarch 2 TBS water 2-3 cups brown rice or extra wide noodles of your choice
Boil cubed tempeh with a piece of kombu seaweed in enough water to cover for 15 minutes. Drain off and discard the cooking water. Eat the seaweed straight up if you like, or add it to a salad or beans. I love it right out of the pot!
Combine the wine, tempeh, onion, carrot, garlic, tamari, and 1 TBS of the olive oil, herbes de Provence and bay leaf in a large bowl. Cover and refrigerate for 2-4 hours. Strain the wine marinade from the vegetables and tempeh, reserving the marinade in a medium bowl.
Heat the remaining 2 TBS olive oil in a large, heavy bottomed pan over medium heat. Add the tempeh and vegetable mixture (carrots, onion and garlic) and cook 5-7 minutes, until pan is dry. Then add ¼ cup of the reserved marinade and stir to deglaze the pan. Whisk together the tomato paste and the reserved wine marinade and add to the tempeh. Add the sliced mushrooms. Reduce heat to medium-low, cover and simmer for 20 minutes or until veggies are tender, stirring occasionally. Add water, one tablespoon at a time if mixture seems too dry. Season with salt and pepper. If you would like the sauce to be a little thicker, mix the arrowroot with the water and slowly add to the pan stirring gently until thickened. Sprinkle with chopped parsley and serve over rice or pasta while dreaming of France!!
Recipe from TherapeuticChef – Kristin Doyle