Jaymie 'Pyxie' Smith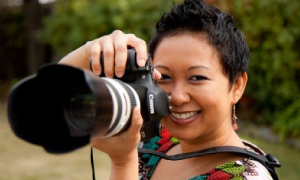 We can't stop squirming in our chairs with excitement; Jaymie 'Pyxie' Smith has joined our staff in the Expressive Arts department! Pxyie was diagnosed with breast cancer in 2011 and has kicked cancer in the tush with the same gusto that she puts into her work. Always looking for the positive side in everything, she turned her journey with cancer into an adventure. Instead of waiting for her hair to fall off from chemo she threw a shaving party. She totally rocked a mowhawk for a few weeks! Even though there were day when she'd be too weak to leave the house, Pyxie plotted and planned on what fun she could do on her good days. She did everything from riding her motorcycle to camping and going to parties...cancer didn't stop her from living her life to the fullest!
When hot flashes were bearable she always had fun wearing her different wigs on occasions: from long and black to playful blonde to elegantly curly (which she wore on her wedding day!) to short and spunky. Most of the time she'd just go bravely bald or wear a bandanna.Throughout her journey she took photos of herself. Even when she was feeling icky and gross, she recorded her experience by snapping pictures. It was a way for her to remember all the trials and triumphs she went through and what shaped her to who she is today. With the love and support of her husband, family and friends Pyxie is a strong believer of the Fight vs Fright mentality. FIGHT cancer! Kick it in the butt! Don't let fear of the unknown or the future stop you from doing what you enjoy. Do it NOW!
It was actually her experience fighting breast cancer that encouraged her to pursue her passion in photography as a career. Pyxie thrives in capturing classy, edgy and fun memories for her clients! And now, she is a full-time portrait and wedding photographer based in Roseville, CA – Pyxie Productions.
Join her in a 4 week class that will use photography as a fun and creative outlet to record your adventures with cancer.  Photography Journaling begins Nov 5th!