Gluten-free Pizza Crust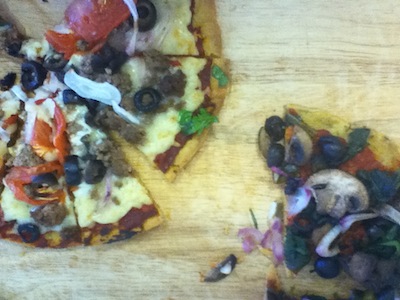 Gluten-free pizza doesn't have to taste bland or be dry and crumbly.  Not only is this crust tasty, it's base is garbanzo bean flour- a healthier alternative to many gluten-free flour mixes, since it doesn't spike your blood sugar levels.  Another bonus: no rolling out dough or using yeast.  Just mix, pour, and bake. This recipe makes 1 thick crust pizza or 2 thin crust pizzas, if using 10-12 inch pans. But use any size pan you have!
Tools needed: an iron cast pan or equivalent that can be baked in the oven
Ingredients: 1 1/3 cup garbanzo bean flour 2 cups water 2-3 tb olive oil 1 tsp sea salt 1/2 tsp dried basil 1/2 tsp dried thyme 1/2 tsp dried oregan 1/4 tsp garlic or garlic powder
Procedure: Preheat oven to 350 degrees F. Mix all dry ingredients together.  Add water slowly (to minimize clumping) and mix well. Whisk in 1 tb olive oil. Mix will be soup-like/watery. Oil an iron cast pan well with 1-2 tb olive oil. For a thick crust pour entire mix into a 10-12 inch iron cast pan, for a thinner crust only pour half of mix. Bake 30-50 minutes, or until cooked through and edges pulling away from pan. (It's hard to overcook this one).
Cover with toppings of choice, bake again, and serve! Or store in ziplock bag for up to 3 days until ready to use.